The New Mercedes-AMG® EQS

The status quo has just been overtaken. Luxury performance and sustainability coalesce in the new 
Mercedes-AMG EQS 53 4MATIC®

The composition of power
An experience for all the senses. The AMG® Sound Experience Performance, which comes in "Balanced", "Sport", and "Powerful" modes, provides the perfect level of goosebumps. A completely new, sensual sound experience arises in the symbiosis of sound, ambient light, and vibration. An experience that makes you almost forget you're in a fully electric vehicle.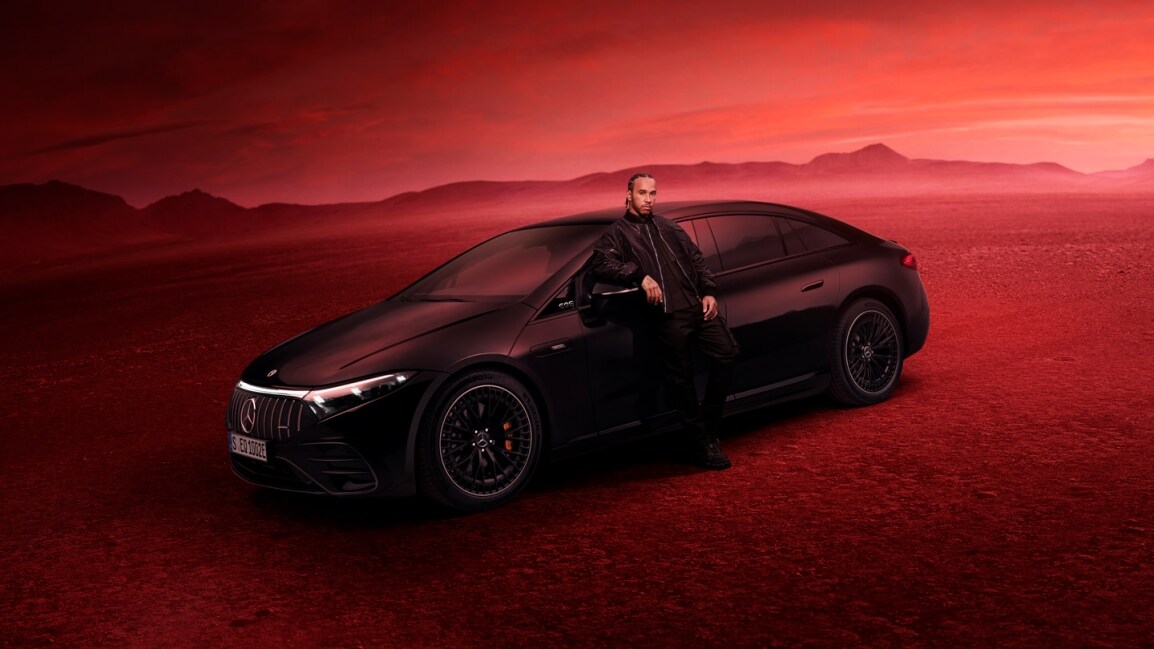 Developed for a new era
No compromises. The Mercedes-AMG EQS combines performance and luxury in a thrilling, first-class driving experience. Two electromotors, fed with one of our company-own high-performance batteries, supply irrepressible driving force. Your Mercedes-AMG EQS combines worlds and provides a typical AMG® driving experience in any situation.

Adrenaline-fuelled powerhouse
The ultra-light and direct cooled lithium-ion battery, further developed in-house by Mercedes-AMG, supplies immense power for those signature AMG®-moments. Whether on the racetrack or country roads - this powerhouse provides the necessary range and has enough reserves for spirited sprints.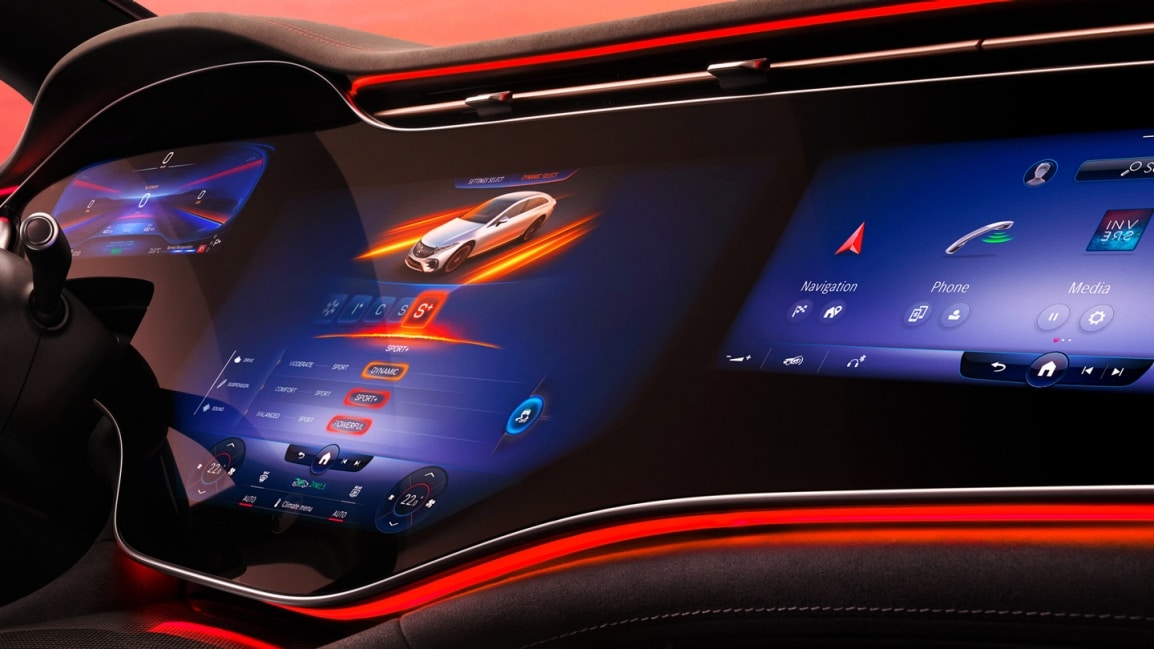 Aesthetic Intelligence
The interface of a new generation: the MBUX Hyperscreen. Three displays optically coalesce under a shared cover glass to present a high-resolution, highly aesthetic user interface, which extends over the entire breadth of the instrument panel. The new generation of the MBUX relies upon artificial intelligence and learning systems to offer more intuitive operation. These displays provide you with the right information at the right time, and can be tailored to fit your personal preferences.
Innovative pioneer
For maximum driving pleasure with the highest level of planning security, the MBUX dovetails a wide range of information such as quick and convenient routes, the current battery level, weather data and charging infrastructure. The result: a time-efficient route, including the necessary charging-breaks. Navigation by means of Electric Intelligence preferentially schedules quick-charging stations, so that you arrive at your destination as quickly and conveniently as possible.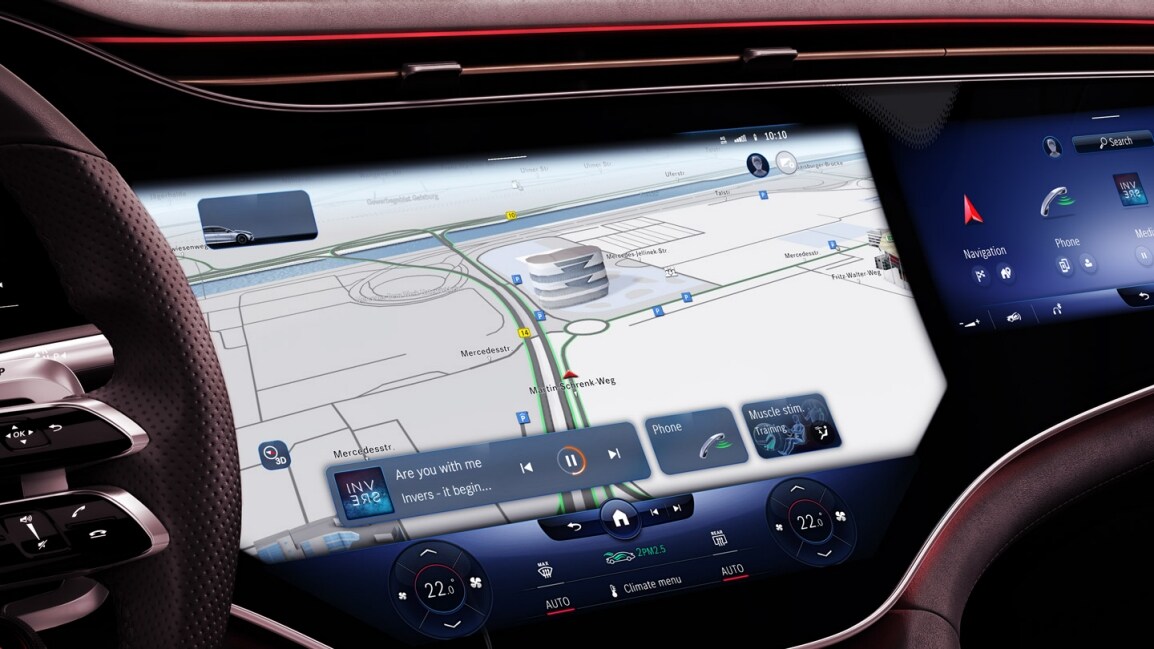 THE FIRST CLASS OF THE FUTURE
Space and time reinterpreted. With its avant-garde interior, your Mercedes-AMG EQS invites you to be present in the moment, before you even reach your destination. Everything is designed for your comfort, and systematically harnesses the latest potential of the electric drive train technology. Without the need for a transmission tunnel, the central console hovers between the front seats, and gives you even more space to relax.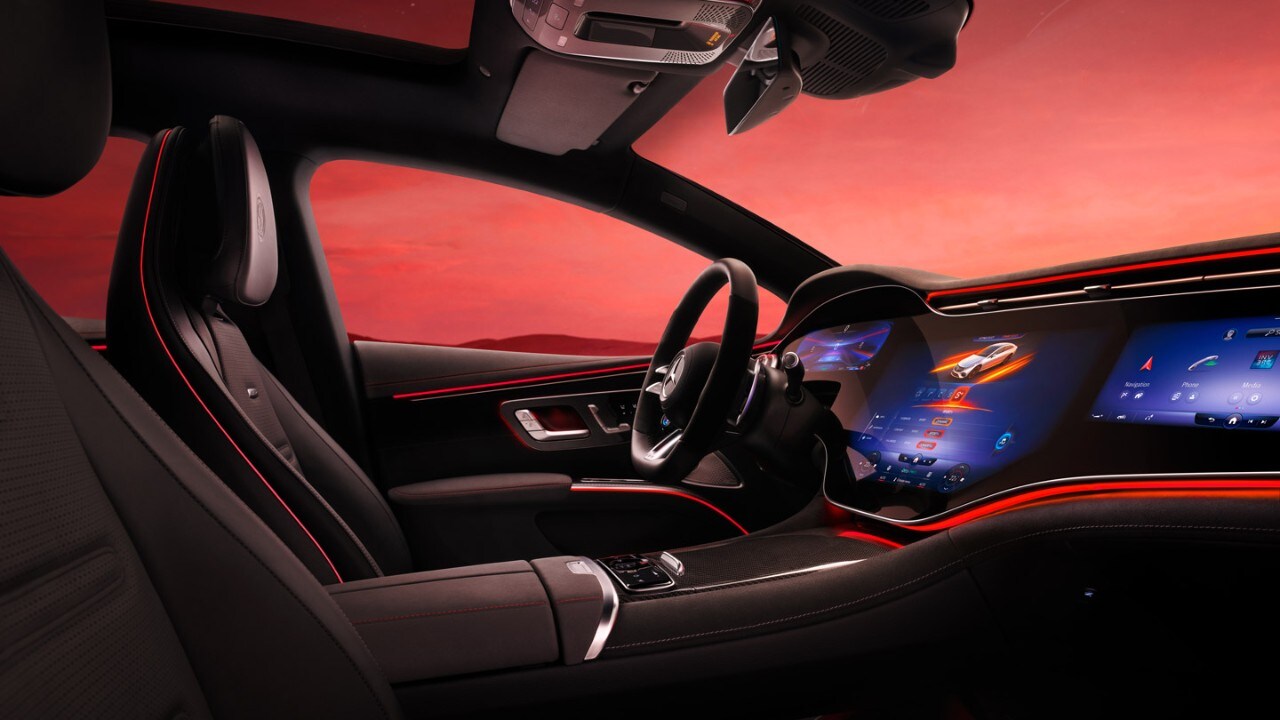 DIGITAL AMBIENCE
The direct and indirect optical fibres of the ambient lighting make for a unique, relaxed atmosphere. A feeling of being at home, even when you are on the road. At the same time, the additional light level is intelligently networked with the driver-assistance systems, and lets you experience the driving dynamic of your Mercedes-AMG EQS with all of your senses.

Sport seats
With 4-way lumbar support and contour lighting. Upholstery in ARTICO man-made leather space grey with AMG®-specific seat graphics with red decorative stitching.
AMG® performance steering wheel
AMG® performance steering wheel in nappa leather. Flattened at the bottom, perforated in the grip area with silver-coloured aluminium shift paddles for setting various recuperation levels and AMG® steering wheel buttons.
MBUX Hyperscreen
With driver display, OLED central display and OLED passenger display under a common, seamless cover glass.
Don't miss out on the new era of driving. 
Make an Inquiry
* Indicates a required field