Seamless, digital and intuitive, the Vision EQS is the electric vehicle in its most luxurious form.
Through its EQ product brand, Mercedes-Benz is setting the definitive standard of that future. And the Vision EQS is the boldest statement yet, using the heritage of the fabled S-Class to announce the electric future in its most luxurious form.
With its stunning contours and stretched, "one bow" proportion, the Vision EQS streamlines automotive design into an ideal of elegance, matched by performance. The aesthetic is anchored in a 360-degree continuous lightband around the vehicle, leading from the new DIGITAL LIGHT headlamps at front to the 229 illuminated stars that accentuate the tail. The new headlamps, each with two holographic lens models, allow numerous light configurations - the next direction in illumination from Mercedes-Benz.
Within, you will find a cabin inspired by luxury yachts. The dashboard blends seamlessly with the body of the front trim, enveloping the driver in sculptured comfort. The materials represent a new level of attention, craft and sustainability: native maple trim from responsibly managed German forests, DINAMICA microfiber in crystal white sourced from recycled bottles, and a roof liner developed from recycled ocean plastic. The entire surface of the interior is capable of displaying digital content, a way of attuning the cabin to the needs and moods of its passengers.
The Vision EQS glides from destination to destination through the efforts of two electric motors, one at each axle, balanced by a battery integrated in the vehicle floor. The sedan is set to achieve 469 horsepower, 560 lb-ft of torque, and 0-60 mph in less than 4.5 seconds. Its range is 435 miles, and charging the battery to 80% will take just 20 minutes using high-power DC Fast Charging.*
Mercedes-Benz intends to have a carbon-neutral vehicle lineup within the next 20 years - a mere three product cycles. Getting there requires bold new ways of rethinking the automobile. The Vision EQS leads the way.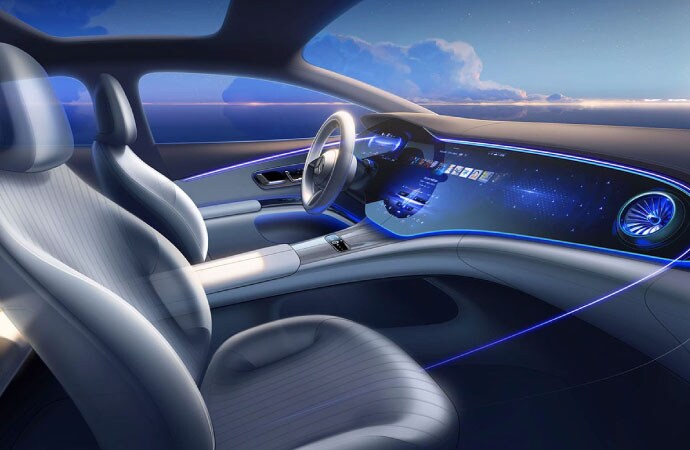 Key Highlights
Dual electric motor generating an output of 469 hp and 560 lb-ft of torque
0-60 mph in under 4.5 seconds
Top speed greater than 124 mph
Estimated range of 435 miles**
100 kWh battery recharges to 80% in 20 minutes using high-power DC Fast Charging*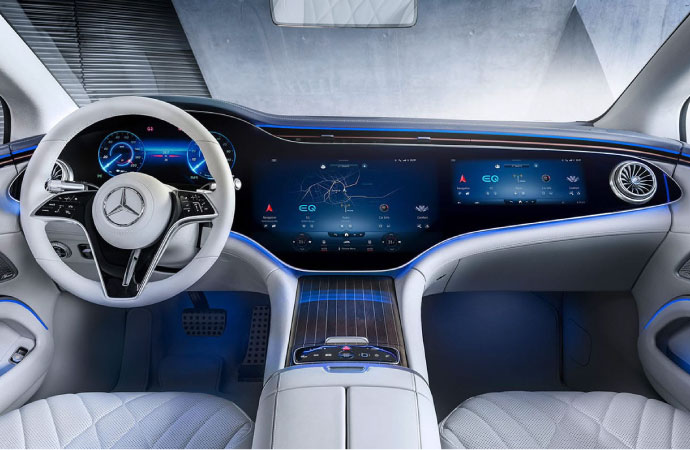 Design
DIGITAL LIGHT headlamps use two holographic lens modules to generate an almost unlimited number of light variations
All-digital front grille
CONNECTED LIGHT interior lighting system, providing both atmosphere and information
Fluid design seamlessly integrates body, dashboard, console and armrests
Luxury interior developed from recycled materials
Stay Informed
Disclaimers
*As a concept car, the designs, technical specifications, features, etc. are subject to change.
**Estimated range based on preliminary engineering specifications estimates. Official EPA range estimates not available for concept vehicle.